Environmental Conservation Police on Patrol
The New York State Department of Environmental Conservation's (DEC) Division of Law Enforcement enforces the 71 chapters of New York State's Environmental Conservation Law (ECL), protecting fish and wildlife and preserving environmental quality across New York. In 1880, the first eight Game Protectors proudly began serving to protect the natural resources and people of New York State. In 2022, Environmental Conservation Police Officers (ECOs) and Investigators across the state responded to more than 25,600 calls and worked on cases that resulted in nearly 13,800 tickets or arrests for violations ranging from deer poaching to solid waste dumping, illegal mining, the illegal pet trade, and excessive emissions violations.
"DEC Environmental Conservation Police Officers and Investigators work hard each day to serve their communities, protect our precious natural resources, and safeguard public health, while ensuring those who break the state's stringent Environmental Conservation Laws are held accountable," DEC Commissioner Basil Seggos said. "In partnership with local, state, and federal law enforcement, DEC looks forward to continuing to support the work our ECOs perform in every corner of New York."
Illegal Commercialization of Trout – Orange County
On Aug. 14, a Deerpark resident entered pleas of not guilty in Deerpark Town Court to charges related to the illegal commercialization of trout. The arraignment followed a months-long investigation stemming from a tip alleging the subject was selling trout by the Neversink River in Orange County. ECOs confirmed the operation by going to the individual's social media page where the subject had posted prices, information about fish preparation, and instructions on where and when to meet up for purchases. Investigators set up an undercover operation and purchased wild trout in vacuum-sealed bags and freshly caught brook trout from the subject. Following the purchases, Officers executed a search warrant at the subject's residence and seized approximately 40 pounds of trout valued at $745. It is illegal to sell trout in New York State, as well as Atlantic salmon, black bass, walleye, muskellunge, and venison.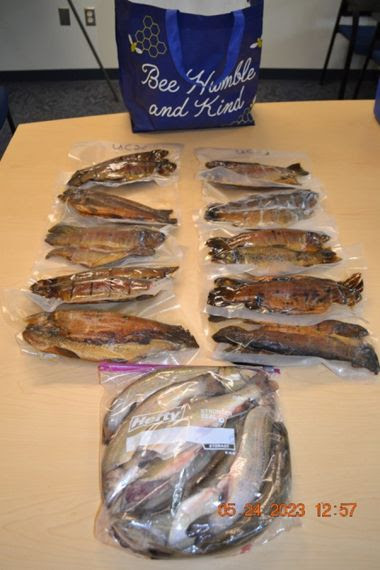 Trout purchased during undercover operation in Orange County
Fish Compliance Checks and Turtle Rescue – Albany, Queens, Suffolk Counties
Undersized blue claw crabs and nearly 400 illegally caught snappers are among some of the additional fish compliance cases ECOs encountered statewide over the past several weeks.
On Aug. 26, while on late-night patrol in Albany County, ECO Bevis observed two anglers using a net to catch blue claw crabs in a restricted area of the Hudson River at the Green Island Dam. As Officer Bevis approached the subjects, one left the area abruptly. The ECO eventually climbed down construction scaffolding to apprehend the second subject. Once both anglers were back at a nearby parking lot, ECO Bevis determined that of the 17 crabs caught, 11 were under the legal size. Further investigation revealed the registration on the vehicle the subjects arrived in was suspended. Officer Bevis issued tickets for possessing undersized blue claw crabs, fishing without a license, trespass, and operating a motor vehicle with a suspended registration. The tickets are returnable to the Town of Green Island Court and the undersized crabs returned to the Hudson River.
On Sept. 2, while patrolling Jamaica Bay in Queens County, ECO Milliron followed up on complaints of anglers using seine and cast nets to take regulated fish species. While checking a group of seine netters, Officer Milliron found three individuals in possession of 365 snappers (juvenile blue fish), 354 fish over the daily legal limit. The Officer issued tickets to the group, returnable to Queens Court.
On Sept. 4, the New York Marine Rescue Center on Long Island contacted Lieutenant Reilly reporting a loggerhead turtle in the State Boat Channel near the Golgotha Beach Marina was hit by a vessel and could not swim on its own. Lt. Reilly, already on the water conducting routine patrols with ECOs Kochanowski and McCarthy, responded to the area while Babylon Bay Constables guarded the turtle with their boat. Utilizing a net, Officers pulled the 175-pound turtle into the boat. Once on board, the Officers noticed the turtle suffered from multiple fractures. ECOs met employees from the New York Marine Center at Cedar Beach Marina and with assistance from the Bay Constables, transferred the reptile to a tote and carried it to a vehicle for transportation to the rescue center to receive treatment for serious injuries.

Illegally caught blue claw crabs seized in Albany County

Snappers caught using seine net and seized by ECO Milliron in Queens County

Injured 175-lb loggerhead turtle pulled from waters in Suffolk County after a vessel strike

Injured loggerhead turtle being inspected by ECOs and other emergency personnel
ECOs Join 'National Night Out' – Suffolk and Erie Counties
Recently, ECOs from Long Island to Buffalo participated in 'National Night Out' events, engaging with communities and encouraging residents to report environmental crimes like illegal poaching and dumping. In the Suffolk County hamlet of Ridge, Officers DeVito and Paschke joined the County Sherriff's Office and Police Department in answering questions about their daily duties. The Ridge Fire Department also conducted a demonstration of safety procedures when responding to a fire emergency. A similar 'Night Out' event in Buffalo, hosted by the Northland Beltline Taxpayer Association, brought law enforcement and residents together at the Mount Olive Baptist Church on East Delevan Avenue, a community historically overburdened by environmental pollution. DEC's Region 9 office in Western NY is standing up an East Buffalo Environmental Forum to be more responsive to area residents.

ECOs DeVito (left) and Paschke (right) attend 'National Night Out' event in Suffolk County

Captain Ver Hague and DEC Public Participation Specialist Kayla Baker at 'National Night Out' event in Buffalo
Python Seizure – New York County
On Aug. 19, ECO Pansini received a complaint from New York City Parks Enforcement Patrol about two men observed with large pythons wrapped around their shoulders at Battery Park in Manhattan. The subjects were attempting to collect money from the public in exchange for photos with the two pythons. Officer Pansini received photos of the snakes and forwarded them to a python expert for identification. The expert identified one snake as a Burmese python and the other as a reticulated python. Both species require a DEC permit to possess and are subject to additional New York City regulations. ECOs Pansini and Ableson and Lieutenant Auguscinski responded, and with assistance from New York City Parks Enforcement Patrol and U.S. Park Police, located and detained the subjects. The Officers interviewed the pair and confirmed they didn't have the proper permits to possess the snakes. After ticketing the owner of the pythons, the Officers safely removed the snakes using techniques learned recently during advanced training on the capture, handling, and transportation of dangerous reptiles. The reticulated python measured at approximately 12 feet in length and the Burmese python was approximately six feet.

ECO Pansini wrangling 12-foot-long reticulated python seized from Battery Park in Manhattan

Pythons seized from Manhattan's Battery Park caged for safe transport
Bond Act Listening Session – Suffolk County
On Aug. 24, ECOs Dickson, Cacciola, and Hilton joined other DEC staff and state agency partners for the Long Island Bond Act Listening Session at Suffolk County Community College in Brentwood. New Yorkers were encouraged to attend one of the eight in-person and two virtual listening sessions that recently concluded to learn more about the $4.2 billion Clean Water, Clean Air, and Green Jobs Environmental Bond Act approved by voters last year. Representatives from local governments, environmental justice and other community advocacy organizations, economic development representatives, and residents impacted by flooding and other climate impacts joined DEC Commissioner Basil Seggos, State Parks Commissioner Erik Kulleseid, and State University of New York Chancellor John B. King. A survey is available until Sept. 30, for New Yorkers to provide input about the State's existing funding mechanisms and help municipalities, community-based organizations, and other New Yorkers share potential projects ideas and capture feedback about the types of projects communities may want supported with Bond Act resources. Learn more at the Bond Act website.

ECO joins DEC Commissioner Basil Seggos (speaking) at the Long Island Environmental Bond Act listening session
Unreported Spill – Montgomery County
On Aug. 28, a criminal court in Montgomery County reached a final determination in a case involving a petroleum spill in the town of Root. On July 11, ECO Willson received a call from a resident reporting the smell of petroleum and visible sheen on the surface of Lasher Creek, a tributary to the Mohawk River. Officer Willson responded to the location with Kevin Sarnowicz from the DEC Spills Response program and traced the spill upstream to a nearby business off State Highway 162. ECO Willson interviewed the property owner who confirmed an equipment failure two days earlier and the loss of approximately 200 gallons of fuel oil. The property owner admitted not reporting the spill nor acting to contain or clean it up. Officer Willson issued three tickets for prohibited discharge of petroleum, failure to report a spill, and pollution of water in contravention of standards. The defendant appeared in Root Town Court at the end of August where he settled criminal charges by accepting a plea agreement with a fine of $3,975. In addition, the subject accepted the cost of cleanup and is working cooperatively with DEC Spill Response Experts on cleaning up the spill.

Site of petroleum spill in the town of Root, Montgomery County
Runaway Vessel – Erie County
On Sept. 3, while ECOs Powers and Scheer conducted boat patrols on the Black Rock Canal, Officer Powers observed people waving frantically from a vessel drifting in the strong currents of the Niagara River, near the Peace Bridge. The ECOs responded to the distressed vessel, which was partially anchored but still being pulled downstream toward a rocky pier. The Officers observed seven people on board and advised them to put on life jackets as they assisted the boat operator and crew in getting the vessel safely back to the nearest dock.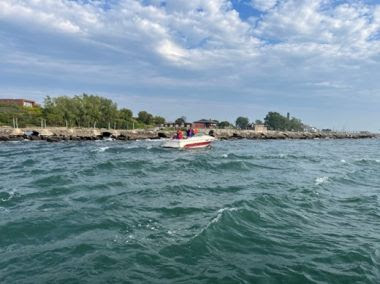 Disabled vessel drifting on the Niagara River in Erie County
Bizarre Discovery – Madison County
On Sept. 9, ECO Burdick received a call for assistance from police in Madison County regarding a massive house explosion on West Elm Street in the city of Oneida. Police advised a stolen vehicle had crashed into the home and severed the gas line into the house, causing the explosion. While area police reported there were no injuries in the blast, several neighboring homes were evacuated as a precaution. During the evacuation process, Officers discovered a six-point, white-tailed deer being kept inside a dog crate. ECO Burdick responded to the location to assist emergency personnel with removing the deer. The homeowner was illegally rehabilitating the animal and had refused to release it, choosing instead to keep it as a pet. Charges are pending and the investigation is ongoing.

Deer held captive in dog crate in Madison County home
Never Forget – New York City
On Sept. 11, ECOs Ableson and Goonan, both assigned to Manhattan, paid their respects at an interagency service held at the site of the World Trade Center attacks in 2001. That tragic day still reverberates through DEC's Division of Law Enforcement (DLE), as just last year DLE lost ECO Cabana to a 9/11-related illness. Sadly, Officer Cabana joins Investigator Graham, Jr., Lieutenant Adam, and ECO Raymond, all Division members lost due to their heroic actions on that harrowing day. In solidarity with all affected, DEC will never forget that day and those still healing from the attacks.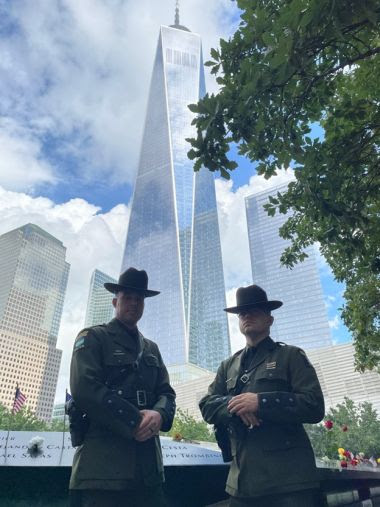 ECOs Goonan (left) and Ableson (right) pay their respects at 9/11 remembrance ceremony in New York City