DEC Forest Rangers – Week in Review
Recent Statewide Forest Ranger Actions
New York State Department of Environmental Conservation (DEC) Forest Rangers respond to search and rescue incidents statewide. Working with other state agencies, local emergency response organizations, and volunteer search and rescue groups, Forest Rangers locate and extract lost, injured, or distressed people from across New York State.
In 2022, DEC Forest Rangers conducted 359 search and rescue missions, extinguished 162 wildfires covering more than 1,300 acres, participated in 53 prescribed fires that served to rejuvenate nearly 900 acres of land, and worked on cases that resulted in hundreds of tickets and arrests.
"With more people visiting State lands and enjoying New York's myriad, world-class outdoor recreational opportunities, DEC's Forest Rangers are on the front lines to help visitors get outside responsibly and get home safely," said DEC Commissioner Basil Seggos. "Each day, these highly trained first responders are protecting irreplaceable natural resources and utilizing their expert knowledge of wildland fire suppression, wilderness first aid, land navigation, law enforcement, and technical rescue techniques to successfully execute critical missions for DEC and our countless local, state, and national partners."
Siskiyou County
State of California
Wildfire Response: On Aug. 22, Forest Ranger Oldroyd departed for a two-week assignment at the Happy Camp Complex fire in the Klamath National Forest. Ranger Oldroyd, based in Broome and Chenango counties, served as task force leader for a group of wildland firefighters from across the country. The Happy Camp Complex Fire includes 13 different fires. Ranger Oldroyd was assigned to the largest in the complex, which burned approximately 30,000 acres and is currently 57 percent contained. Ranger Oldroyd discusses his experiences in a video available to download (928 MB).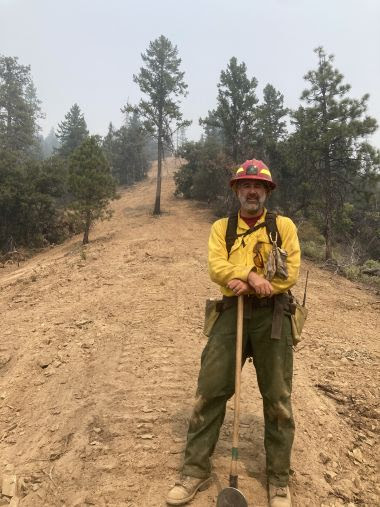 Ranger Oldroyd at Happy Camp Complex fire

Happy Camp Complex fire

Happy Camp Complex fire
Town of Bangor
Franklin County
Law Enforcement: On Sept. 6 at 5:45 p.m., Forest Ranger Russell observed a vehicle swerving over the center divider of State Route 11B. Ranger Russell pulled over the driver. When the driver opened the glove compartment, Ranger Russell saw evidence that there may have been a handgun in the vehicle. The driver admitted to having a 9mm handgun in his luggage. Ranger Russell called Ray Brook Dispatch to request New York State Police (NYSP) assistance. The 36-year-old from New Hampshire was processed by NYSP on two felony counts of illegal possession of a firearm. Ranger Russell issued two tickets for vehicle and traffic law violations. NYSP issued a ticket for having an open alcohol container in the vehicle. Resources were clear at 8:29 p.m.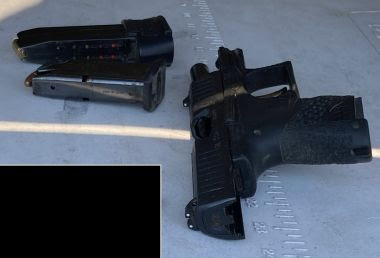 Illegally possessed firearm
Town of Harmony
Chautauqua County
Law Enforcement: On June 28, a DEC Forester notified Forest Ranger Streczywilk about a marijuana grow on Hill Higher State Forest. Ranger Streczywilk returned to the site numerous times over the next couple of months, but was unable to locate the responsible party. On Sept. 7, Rangers Sprague and Streczywilk destroyed 10 marijuana plants before they could be harvested. Although marijuana laws have changed in New York, it is still illegal to grow cannabis on State land. This investigation remains open.

Rangers Sprague and Streczywilk with marijuana plants
Hamlet of Raquette Lake
Hamilton County
Safety Detail: On Sept. 8-10, 13 Forest Rangers and five Environmental Conservation Police Officers provided a safety detail for the Adirondack Canoe Classic, known as the "90 Miler." The three-day event runs from Old Forge to Saranac Lake.

90-Miler
Town of Harrietstown
Franklin County
Wilderness Search: On Sept. 8 at 5:42 p.m., Forest Ranger Captain Burns and Rangers Corey and Rooney joined NYSP in searching for a patient from Adirondack Medical Center. The subject ran away from the hospital and swam across Lake Colby. At 6:14 p.m., Ranger Rooney spotted the patient running on the snowmobile trails behind the camp. The subject continued towards the railroad tracks where he was spotted by Ranger Corey. After a brief chase, Ranger Corey took the patient into custody and turned him over to NYSP, who brought him back to the hospital. Resources were clear at 7:11 p.m.

Rangers find patient
Village of Little Valley and Town of Mansfield
Cattaraugus County
Training: On Sept. 8 and 11, Forest Rangers Hettenbaugh and Skudlarek instructed members of the Cattaraugus County Sheriff's Special Response Team in the use of maps and compasses and Search and Rescue Training Operations (SARTOPO). Deputies requested the training to improve coordination between team members. After classroom instruction, the entire team participated in a mock search scenario utilizing their skills in locating a "lost" subject.

Search and rescue training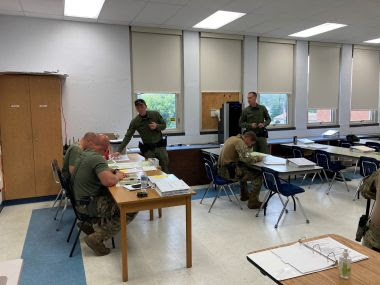 Search and rescue training
Town of Shandaken
Ulster County
Wilderness Rescue: On Sept. 9 at 6:10 p.m., Forest Rangers Martin and Rusher responded to the Burroughs Range Trail for a report of a stranded hiker. The 36-year-old from Brooklyn underestimated her planned hike and didn't have a light source or enough food. Rangers provided food, hydration, and a head lamp, and then hiked the subject to the trailhead. Resources were clear at 9:49 p.m.
Town of Elizabethtown
Essex County
Wilderness Rescue: On Sept. 10 at 4:29 p.m., Forest Ranger Quinn responded to a report of a hiker with a lower leg injury at Split Rock Falls. The 19-year-old from Michigan fell and was unable to walk out. Ranger Quinn set up a low-angle rope rescue system and worked with Keene Valley Fire Department's Wilderness Response Team to place the subject in a litter. The Wilderness Response Team lifted her out to the road. Elizabethtown-Lewis EMS evaluated the patient, who was taken to the hospital by a friend. Resources were clear at 6:03 p.m.

Split Rock Falls rescue (photo courtesy of the Keene Valley Fire Department)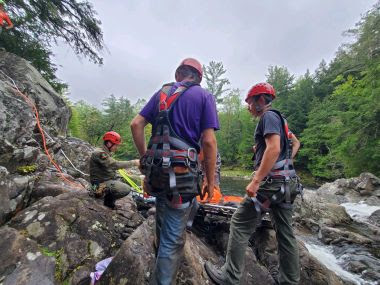 Split Rock Falls rescue (photo courtesy of Keene Valley Fire Department)
Village of Fort Ann
Washington County
Wilderness Rescue: On Sept. 10 at 7:30 p.m., Ray Brook Dispatch requested Forest Ranger assistance with a hiker experiencing heat exhaustion on the Sleeping Beauty Mountain Trail. Rangers Carabetta and Nahor and local fire and EMS reached the 30-year-old from Saratoga Springs approximately one mile up the trail. The patient was nauseous and dehydrated. Rescuers provided treatment, placed the subject in a litter, and transported her to the trailhead where she was met by an ambulance. Resources were clear at 10:16 p.m.
Be sure to properly prepare and plan before entering the backcountry. Visit DEC's Hike Smart NY, Adirondack Backcountry Information, and Catskill Backcountry Information webpages for more information.
If a person needs a Forest Ranger, whether it's for a search and rescue, to report a wildfire, or to report illegal activity on state lands and easements, they should call 833-NYS-RANGERS. If a person needs urgent assistance, they can call 911. To contact a Forest Ranger for information about a specific location, the DEC website has phone numbers for every Ranger listed by region.