Environmental Conservation Police on Patrol
The New York State Department of Environmental Conservation's (DEC) Division of Law Enforcement enforces the 71 chapters of New York State's Environmental Conservation Law (ECL), protecting fish and wildlife and preserving environmental quality across New York. In 1880, the first eight Game Protectors proudly began serving to protect the natural resources and people of New York State. In 2022, Environmental Conservation Police Officers (ECOs) and Investigators across the state responded to more than 25,600 calls and worked on cases that resulted in nearly 13,800 tickets or arrests for violations ranging from deer poaching to solid waste dumping, illegal mining, the illegal pet trade, and excessive emissions violations.
"DEC Environmental Conservation Police Officers and Investigators work hard each day to serve their communities, protect our precious natural resources, and safeguard public health, while ensuring those who break the state's stringent Environmental Conservation Laws are held accountable," DEC Commissioner Basil Seggos said. "In partnership with local, state, and federal law enforcement, DEC looks forward to continuing to support the work our ECOs perform in every corner of New York."
Rattlesnake Removal – Steuben County
On July 9, ECO Baker received a report about a possible rattlesnake at an auto shop in the town of Painted Post. The ECO identified the snake as a timber rattlesnake after viewing a picture of the animal and contacted Lieutenant Lochner, a member of DEC Law Enforcement's Wildlife Response Team, to assist. The Officers picked up a snake hook, bag, and lockable box and responded to the auto shop where they carefully collected the rattlesnake before releasing it nearby on State land. While rarely seen, venomous timber rattlesnakes are native to New York State. These snakes are generally found in small, localized areas and are a threatened species protected by law. More information on timber rattlesnakes is available on DEC's website.

Timber rattlesnake discovered at auto shop in Steuben County
Deer/Car Collision – Cattaraugus County
While on patrol, Investigators Dougherty and Piwko recently spotted a vehicle that appeared to be in the median of Interstate 86 in the town of Olean. As the Officers got closer, they could see the car had just struck a deer and sustained significant damage, including the deployment of all airbags. The Officers spoke to the vehicle's occupants, determined there were no serious injuries, and removed the deer from the driving lane while they waited for an ambulance to arrive. Once EMTs arrived at the location, ECOs turned the scene over to the Cattaraugus County Sheriff's Office.

DEC Division of Law Enforcement Investigators respond to a car accident involving a deer in Cattaraugus County
Injured Owl – Columbia County
On Aug. 4, ECO Rutherford responded to the town of Craryville for reports of an owl entangled in a net. Officer Rutherford carefully cut the net and released the owl. After observing the bird for several minutes after its release, the ECO determined the owl was suffering from injuries that needed further evaluation and brought the bird to Friends of the Feathered and Furry Wildlife Rehabilitation Center in Hunter where it was treated for dehydration and an injured wing. The owl was released back into the wild after making a full recovery.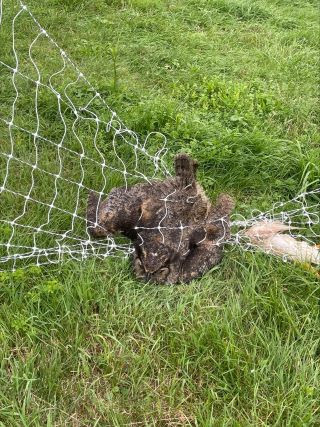 Owl entangled in net in Columbia County
Rabid Fox Attacks – Rensselaer County
On Aug. 9, ECOs Rutherford and Bush, along with New York State Police Troopers, responded to a mobile home community in Valley Falls where a fox had bitten two children and an elderly woman. The Officers were unable to locate the fox when they responded to the area, but ECO Rutherford received a call later reporting the same fox had returned to the community. At the request of the Officers, DEC Region 4 Bureau of Wildlife employees Seth Liddle and Joe Ermeti responded to the location as well, spending much of their day assisting ECOs in locating the fox. Officer Rutherford eventually made contact with the animal as the fox emerged from a wooded area and charged at him, growling loudly. Rutherford dispatched the fox before it caused further injuries. The animal tested positive for rabies at the DEC Pathology lab in Albany County and the three bite victims were treated at Albany Medical Center, with one victim requiring eight stitches.
Heavy Duty Diesel Vehicle Detail – Seneca County
On Aug. 9, ECOs Brown, Rich, and McCabe partnered with inspectors from the New York State Department of Transportation to conduct checks on Heavy Duty Diesel Vehicles (HDDVs) in Seneca Falls. The Officers inspected numerous trucks and witnessed violations ranging from leaking oil to tax law infractions. One truck was hauling 25 cubic yards of asbestos without a permit to carry this hazardous substance. In addition, the truck was leaking oil and had numerous other safety violations. Officers ticketed the driver, put the truck out of service, and escorted it to a permitted facility to dispose of the asbestos. Tickets were issued and are returnable to Seneca Falls Court.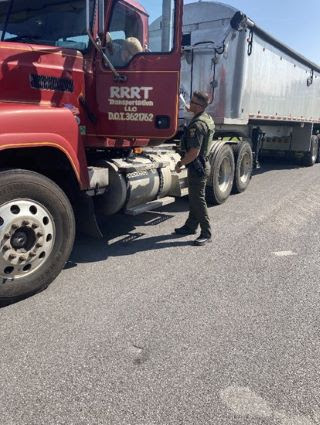 ECO Rich inspecting asbestos hauler in Seneca Falls
Illegal Dumping Bust – Suffolk County
On the night of Aug. 11, ECO DeRose received a late-night call from a State Police Investigator who observed a pickup truck with a couch in its bed enter a wooded area common to dumpers. The Investigator and ECO responded to the area and found three individuals had dumped the couch and other solid waste at the location, claiming they were cleaning out their apartment and the sanitation department refused to take their waste. Officer DeRose noticed another pile that had recently been dumped, but the trio insisted they weren't responsible for dumping it. The ECO wrote the trio tickets for the unlawful disposal of solid waste and continued his investigation the following day, issuing tickets to another party.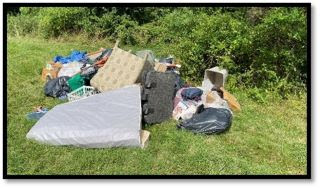 Illegal dumping pile discovered by ECOs and State Police in Suffolk County
Illegal Pesticides Detail, Part II – New York County
On Aug. 16, ECOs Ableson, Milliron, Parmelee, and Investigator Harvey, and Lieutenant Levanway, working with Bureau of Pesticides Management employees from DEC Regions 1 (Long Island) and 2 (New York City), conducted the second of a multi-part enforcement effort to reduce the sale of illegal pesticides by street vendors in the Washington Heights neighborhood of Manhattan. Officers selected the location based on poison reports from the New York State Department of Health and conducted community outreach and education about illegal pesticides in the neighborhood before enforcement efforts began.
During this latest sweep, teams consisting of an ECO and three Pesticide Control Specialists approached tables operated by street vendors selling illegal pesticides without required U.S. Environmental Protection Agency (EPA) registration, some selling items without labels entirely. Officers seized the illegal pesticides and turned them over to a contractor for proper disposal.

Illegal pesticides seized during pesticides detail in New York City's Washington Heights neighborhood
Injured Eagle – Essex County
On Aug. 17, ECO Nicols received a report of a downed bald eagle at a private residence in the town of Westport. The Officer met with the property owners who were keeping a watchful eye on the bird prior to the ECO's arrival and set out to try and catch it. However, the eagle remained elusive, making Officer Nicols chase it across three properties along Lake Champlain before finally catching it in a cluster of cedar trees. The animal's right wing appeared to be severely injured prompting the ECO to transport it to an animal hospital and rehabilitation center for further treatment.

ECO Nicols with injured bald eagle and young residents in Essex County after eagle rescue
Box Turtle Under the Weather – Suffolk County
On Aug. 18, while on patrol in Suffolk County, ECO DeVito received reports of a box turtle that appeared ill in the hamlet of Shirley. Box turtles are on the New York State Threatened Species list. Officer DeVito responded to the location and observed a small box turtle that appeared lethargic and had lumps on either side of its neck. The ECO determined the turtle needed special attention and brought it to a local licensed rehabilitator who explained the animal was suffering from a double ear infection, common in box turtles exposed to certain pesticides. The animal is being treated at the Turtle Foundation in the village of Jamesport and is expected to be released at an appropriate location when it makes a full recovery.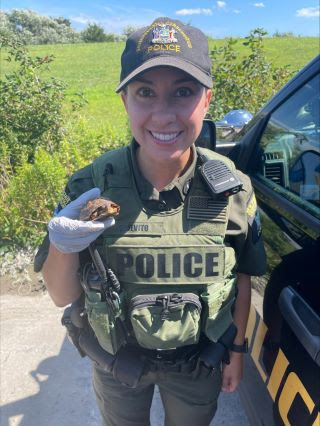 ECO DeVito holding ill box turtle discovered in Suffolk County
Fishing Compliance Checks – Suffolk County
A tuna bust and a fishy trunk top this week's fishing compliance checks in Suffolk County.
• On Aug. 2, while on patrol in Hampton Bays, ECO McGhee observed two individuals unloading tuna from a recreational sportfishing boat docked at a marina. The Officer approached and spoke to the individual on the vessel who said he worked for the boat's owner and was unloading the fish to sell to a seafood company. The vessel did not have the required Highly Migratory Species Permit to lawfully sell the catch commercially and was missing other federal fisheries permits. Officer McGhee referred the violations to the National Marine Fisheries Service for prosecution.
• On Aug. 16, while on bike patrol along the fishing access sites of Great South Bay, ECOs Anderson and Dickson received a complaint about an angler keeping short fluke and hiding them in his car at Captree State Forest. The Officers responded to the location and observed a man fitting the description fishing off a pier. The ECOs interviewed the angler who initially claimed he had just started fishing for the day before eventually admitting he had been fishing at the location for hours. As suspected, the fisherman opened the trunk of his car revealing four undersized summer flounder (fluke), about five-and-a-half inches smaller than the legal catch size. Officers issued citations for the undersized fish and educated the angler on State regulations for marine fishing.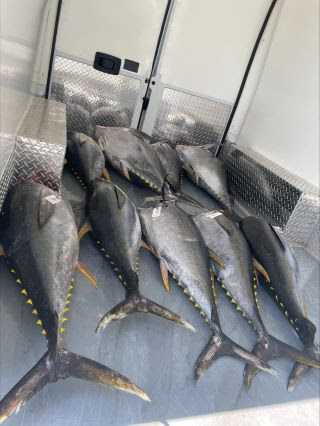 Two bigeye tuna and seven Yellowfin tuna are regulated as Highly Migratory Species seized under federal regulations by the National Marine Fisheries Service

ECOs Anderson and Dickson at Captree State Park with short fluke discovered during bike patrol
To contact an ECO to report an environmental crime or to report an incident, call 1-844-DEC-ECOS for 24-hour dispatch or email (for non-urgent violations).