Environmental Conservation Police on Patrol
The New York State Department of Environmental Conservation's (DEC) Division of Law Enforcement enforces the 71 chapters of New York State's Environmental Conservation Law (ECL), protecting fish and wildlife and preserving environmental quality across New York. In 1880, the first eight Game Protectors proudly began serving to protect the natural resources and people of New York State. In 2022, Environmental Conservation Police Officers (ECOs) and Investigators across the state responded to more than 25,600 calls and worked on cases that resulted in nearly 13,800 tickets or arrests for violations ranging from deer poaching to solid waste dumping, illegal mining, the illegal pet trade, and excessive emissions violations.
"DEC Environmental Conservation Police Officers and Investigators work hard each day to serve their communities, protect our precious natural resources, and safeguard public health, while ensuring those who break the state's stringent Environmental Conservation Laws are held accountable," DEC Commissioner Basil Seggos said. "In partnership with local, state, and federal law enforcement, DEC looks forward to continuing to support the work our ECOs perform in every corner of New York."
Kemp's Ridley Sea Turtle Rescue – Nassau County
On the evening of July 1, marine biologists with the New York Marine Rescue Center (NYMRC) requested ECO assistance with a Kemp's ridley sea turtle that had washed up on Atlantic Beach. Kemp's ridley is the most critically endangered species of sea turtle in the world. ECO Pabes arrived at the location shortly after receiving the call and secured the scene, ensuring nobody touched the animal. Touching or attempting to move marine wildlife back out to sea can further stress the animal and cause additional injury. Shortly after Officer Pabes secured the area, a volunteer with NYMRC arrived and safely took the sea turtle in for rehabilitation.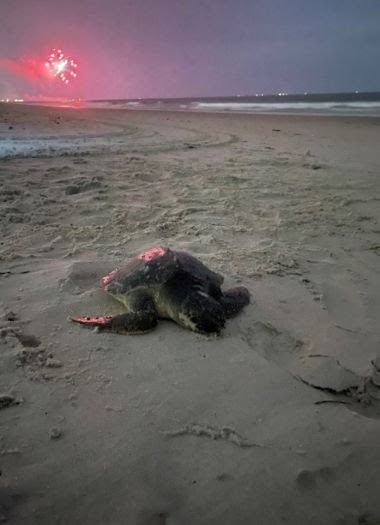 Kemp's ridley sea turtle on Atlantic Beach during fireworks display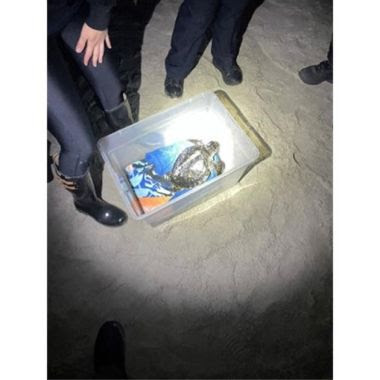 Sea turtle on its way to rehabilitation after washing up on Atlantic Beach
Fireworks, Fish, & Freedom – Suffolk, Nassau, and Queens Counties
From fish compliance checks to fireworks patrols, it was a busy July 4th holiday weekend for ECOs across the state.
On July 1, while patrolling Three-mile Harbor and Gardiners Bay in Suffolk County, ECOs Giarratana, McGhee, and Zullo checked several vessels with anglers on board. Officer Zullo boarded one vessel and observed a cooler full of fish, including black sea bass, porgy, and a blackfish. The ECO inspected the cooler, measured the fish, and issued tickets to the anglers on board for catching undersized fish and out-of-season blackfish. ECO Giarratana boarded a separate vessel and determined it did not have enough life jackets on board for each person. The Officer issued one ticket for insufficient personal flotation devices. The Officers then made their way to Nepeauge Bay to assist the East Hampton Marine Patrol during a fireworks display. All tickets are returnable to East Hampton Town Court.
On July 2, ECO Dickson received a complaint about people taking egg-bearing blue crabs at Captree State Park in Suffolk County. In New York State, blue crabs with eggs attached must be returned to the water to help ensure healthy population numbers and continued ability to harvest crabs in the future. When Officer Dickson arrived at the Captree Fishing Pier, he observed and inspected two buckets full of spawning and undersized blue crabs. ECO Dickson ticketed the crabbers possessing the illegal crabs and educated the group on harvesting regulations in New York State. All tickets are returnable to Suffolk First District Criminal Court.
On July 3, in Erie County, ECO Bobseine received a tip about people using a cast net in the Tillman Road Wildlife Management Area (WMA) in the town of Clarence. Officer Bobseine, about an hour away from the location at the time, contacted Officer Damrath to assist. ECO Damrath responded to the WMA and observed a man using a cast net and then hiding it in the bushes when his young son made him aware that an ECO was on scene. When confronted with the evidence against him, including the net and hidden fish, the subject still denied his crimes. Eventually, the cast netter's wife admitted her husband used the net to catch fish. ECOs counted more than 200 fish, nearly all of which were undersized. The cast netter was charged with fishing without a license, taking over-the-limit fish, taking fish by means other than angling, and unlawfully possessing protected fish. He faces $1,000 in fines.
On July 4, while patrolling the Jamaica Bay National Wildlife Refuge and nearby Rockaway Point in Queens County, Lieutenant Levanway and ECO Milliron ticketed an angler for catching an undersized cobia, before making their way toward known clam beds in Jamaica Bay. Before long, the Officers found two groups unlawfully digging for clams in the area, which is not certified for harvesting shellfish due to poor water quality. Members of both fishing parties received tickets for taking clams from uncertified waters, returnable to Queens County Court.
ECOs in Nassau County assisted the U.S. Coast Guard, Nassau County Police Department, New York State Park Police, and other emergency response units at the July 4 Jones Beach Fireworks Spectacular. ECOs on boats and All-Terrain Vehicles assisted with public safety and intercepted a vessel operating without navigation lights. The vessel was also later discovered to be unregistered. Officers ticketed the boat operator. ECOs in other counties also participated in similar patrols over the holiday weekend, ensuring residents and visitors enjoyed fireworks displays, boating, and other recreational activities.
On the weekend of July 8 and 9, ECOs Milliron, Korey, and Swart conducted patrols at Spring Creek Park in Queens County where they checked several groups of anglers and found multiple violations. In all, the Officers seized 70 fish from the groups for catching undersized fish, fishing without a marine registry, and taking shellfish from uncertified waters.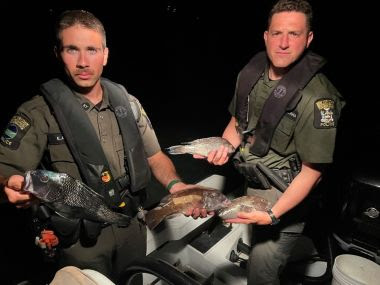 ECOs Zullo and Giarratana with fish seized from vessels while patrolling Three-mile Harbor and Gardiner Bay in Suffolk County

Egg-bearing blue crabs caught illegally at Captree State Park in Suffolk County

Significantly undersized smallmouth bass seized by ECO Damrath in Erie County

ECO Milliron with undersized cobia seized during fish compliance patrols in Queens County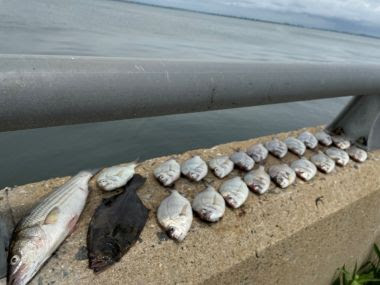 Just a few of the more than 70 fish seized during fish compliance checks at Spring Creek Park in Queens County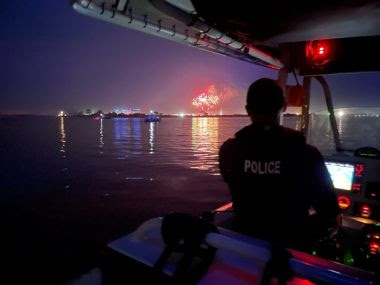 ECO Perkins keeping boaters safe during the Jones Beach Fireworks Spectacular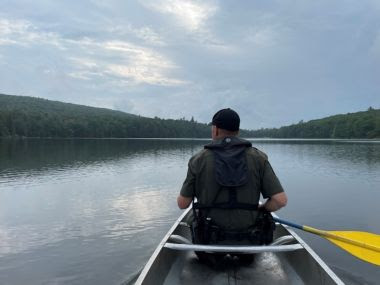 ECO Palmateer patrolling the waters of North South Lake
Injured Bald Eagles – Tompkins and Schoharie Counties
ECOs responded to two cases involving injured bald eagles in early July.
On July 5, ECO Scalisi responded to the town of Newfield in Tompkins County to assist New York State Police Trooper Hugg with an injured eagle that was unable to fly. The Officers cornered the bird in the brush along a hayfield and captured it with a catchpole. They then transported the eagle to Cornell University's Janet L. Lawson Wildlife Hospital for evaluation and treatment.
On July 10, in the town of Cobleskill, Schoharie County, ECO Bohling received a call about a dead eagle on the side of the road on Route 88, just east of Exit 21. As she patrolled the area, she received a call from Schoharie County 911 reporting the bald eagle was alive and being transported to a nearby gas station for pickup. The bird could not get to its feet to fly. DEC staff at the Wildlife Resources Center determined the eagle suffered a leg injury requiring further treatment at Cornell University.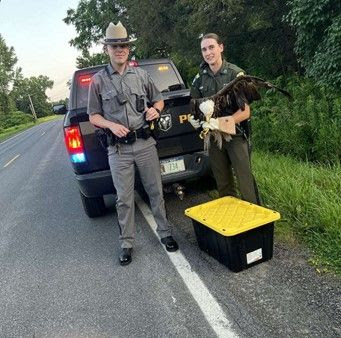 Trooper Hugg and ECO Scalisi with injured bald eagle in Tompkins County

ECO Bohling with injured bald eagle found in Schoharie County
Out-of-Season Bear Kill – Delaware County
On July 10, ECOs received an anonymous tip about a subject who shot and killed a bear at the Stratton Falls Campground in the town of Roxbury. ECOs Osborne and Vencak responded to the campground and observed a man acting suspiciously in the area near where the bear had been reportedly killed. After further investigation, the Officers located the deceased bear hidden under a swimming pool in a backyard on the property. The subject admitted to shooting the bear earlier that morning because it was walking by his home. ECO Osborne charged the subject with misdemeanors for shooting and killing a bear illegally, killing a bear out of season, and discharging a firearm within 500 feet of a dwelling. All tickets are returnable to the Town of Roxbury Court.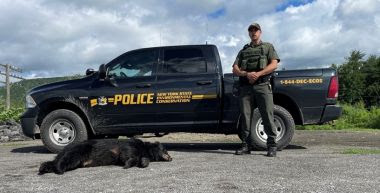 ECO Osborne with unlawfully taken bear in Delaware County
Commercial Vehicle Enforcement – Delaware County
On July 12, ECOs teamed up with the New York State Department of Transportation (NYSDOT) Motor Carrier Enforcement Unit to conduct a commercial vehicle enforcement detail focused on Heavy Duty Diesel Vehicle (HDDV) emissions, the transportation of solid waste, and vehicle and traffic laws. During the detail along the State Route 28 corridor near Margaretville, the two agencies observed 29 violations and put three commercial vehicles out of service for non-compliance.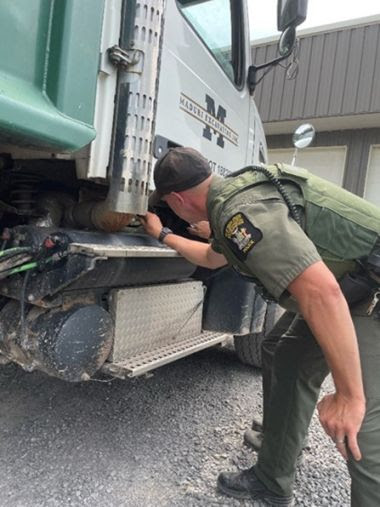 ECO Osborne inspecting heavy-duty vehicle's exhaust system for leaks in Delaware County
To contact an ECO to report an environmental crime or to report an incident, call 1-844-DEC-ECOS for 24-hour dispatch or email (for non-urgent violations).