Environmental Conservation Police on Patrol
The New York State Department of Environmental Conservation's (DEC) Division of Law Enforcement enforces the 71 chapters of New York State's Environmental Conservation Law (ECL), protecting fish and wildlife and preserving environmental quality across New York. In 1880, the first eight Game Protectors proudly began serving to protect the natural resources and people of New York State. In 2022, Environmental Conservation Police Officers (ECOs) and Investigators across the state responded to more than 25,600 calls and worked on cases that resulted in nearly 13,800 tickets or arrests for violations ranging from deer poaching to solid waste dumping, illegal mining, the illegal pet trade, and excessive emissions violations.
"DEC Environmental Conservation Police Officers and Investigators work hard each day to serve their communities, protect our precious natural resources, and safeguard public health, while ensuring those who break the state's stringent Environmental Conservation Laws are held accountable," DEC Commissioner Basil Seggos said. "In partnership with local, state, and federal law enforcement, DEC looks forward to continuing to support the work our ECOs perform in every corner of New York."
School Bus vs. Garbage Truck – Suffolk County
On July 20, while on patrol in Suffolk County, ECOs DeVito and Della Rocco received a request for assistance with a petroleum spill from the Southampton Police Department. When the Officers arrived at the location in Southampton, they observed a garbage truck on its side with waste and other fluids leaking into the street. After speaking with New York State Troopers and local responders, the ECOs learned that a school bus with no children on board had struck the garbage truck, causing it to overturn. The drivers of both vehicles suffered minor injuries. ECOs DeVito and Della Rocco helped to secure the scene and direct traffic and contacted the DEC Spill Response Unit to report the event. DEC monitored the cleanup and determined there was no threat to public health or the environment.

Overturned garbage truck leaking waste and other fluids in Southampton, Suffolk County
Downed Eagle – Schoharie County
On July 30, ECO Burgess received a report of a downed bald eagle at the Elm Farm in Richmondville. Officer Burgess met with the farmer, Ken Bono, who had spotted the eagle sitting on a fence post the day prior. When ECO Burgess arrived, the bird was under a tree in a cow pasture. The Officer entered the field and after a short chase, netted the eagle. A closer examination revealed the bird was suffering from a severe wing injury. ECO Burgess transported the eagle to Friends of the Feathered and Furry Wildlife Center in Hunter for immediate treatment. A local eagle expert, Bill Combs, provided historical information about the bird, indicating the banded eagle was released approximately five weeks earlier, nearly two hours away, after recovering from a previous injury.

ECO Burgess utilizes a net to capture an injured bald eagle in Schoharie County

ECO Burgess with bald eagle found injured in Schoharie County
Day on the Delaware
On July 30, ECO Parker participated in a joint enforcement with National Park Service Rangers on the Delaware River. Utilizing a jet boat, Officers patrolled the sometimes shallow and rapid waters monitoring several hundred recreational boaters, rafters, and tubers to ensure water safety. Additionally, ECO Parker issued six tickets for fishing-related violations and assisted the Park Service Rangers with addressing violations for navigation law offenses, including lack of life jacket devices and unregistered vessels.

ECO jet boat maneuvers up shallow rapids of the Delaware River
Late Night Boat Rescue – Warren County
On Aug. 2, ECO Krug and Lieutenant Higgins responded to a report of a boat that had run aground with passengers on board near Mohican Island on Lake George. The Officers arrived at the location via patrol vessel to search the area and a camper directed them to nearby Turtle Island where they spotted the stranded boat. ECOs observed a male subject in the water trying to pull the boat to shore while his teenage daughter remained on board. Another passenger already swam a third of a mile back to his home to try and get another vessel to tow the disabled boat. The Officers verified the swimmer was safe before towing the disabled vessel back to the residence. No one was injured during the late-night incident.

ECO Krug prepares to tow stranded boat located near Turtle Island on Lake George
Injured Owl Rescued – Schenectady County
On the evening of Aug. 9, ECO Willson received a call from a resident in the town of Niskayuna reporting an injured owl in their woodshed, unable to fly. Officer Willson successfully collected the injured owl and transported it to a local wildlife rehabilitator for assessment and treatment.

ECO Willson with injured Great horned owl found in Niskayuna
Fish Compliance Check Roundup – Suffolk and Richmond Counties
From undersized porgy and blue crabs to an apprehended poacher and a foot chase over fluke, ECOs in Suffolk and Richmond counties conducted a series of fishing compliance checks that resulted in enforcement actions.
On July 20, while on boat patrol in Montauk, Suffolk County, ECOs DeVito, Della Rocco, and Simmons encountered anglers fishing from a vessel anchored outside the New York State boundary in federal waters. The Officers determined the captain did not have a federal fishing permit and could not legally possess the 100 fish found on board, including black sea bass and porgy. The defendant faces federal charges from the National Oceanic and Atmospheric Administration (NOAA).
On July 22, ECOs Perkins and Hilton arrived at the Oak Beach Pier in the town of Babylon, Suffolk County, to conduct recreational saltwater fishing compliance checks after dark. During patrol, the Officers inspected the bags of two anglers and discovered several illegal fish, including undersized fluke, tautog, and blue crabs. The fishermen also admitted to catching the fish with a cast net. The pair received eight tickets for possession of undersized fish, over-the-limit fish, out-of-season fish, and undersized crabs, among other environmental crimes.
On July 23, ECOs Farner and Kortz found themselves in a foot chase following a fluke fiasco. The Officers received complaints of four people keeping over-the-limit and undersized fluke at Fox Beach in Richmond County. ECOs waited for the anglers to head back to the parking lot and attempted to make contact. The anglers took off, leading the Officers on a brief foot pursuit. ECOs caught up to the fishermen and found 24 fluke in their possession, 22 of which were undersized. ECOs Farner and Kortz issued 11 tickets to the anglers for offenses ranging from possession of over-the-limit and undersized fish to failure to release without undue harm, and fishing without a marine registry.
On July 26, ECO Cacciola requested help from ECO Hilton in tracking down a vessel fishing from Huntington Harbor in the town of Huntington, Suffolk County. The vessel, operated by a known poacher, was discovered by Officers just after midnight. The captain claimed to have only one bluefish on board but ECOs inspected the vessel and discovered an oversized striped bass in a hidden compartment. The fish measured 44 inches, 13 inches larger than the legal maximum size. The Officers issued three tickets to the angler and seized the bass as evidence.
On July 30, while on patrol in Long Island Sound, ECOs Tompkins, Wamsley, and Franz focused on anglers committing marine fishing violations. The Officers issued 15 citations for several violations including catching and keeping undersized and out-of-season fish, and fishing without a marine registry. The ECOs also seized more than 100 fish, 97 of which were porgy.
On Aug. 2, ECOs DeVito and Hilton conducted commercial fishing checks in Montauk, Suffolk County. During their inspection of one fish market, they discovered four totes of fish waiting to be packed by a dealer. A closer look revealed that one tote contained 20 untagged tautog. The Officers also found 100 pounds of black sea bass packed in unlabeled containers. ECOs ticketed the market for the untagged fish and unlabeled food containers.

ECO DeVito sorts through and measures 100 fish caught illegally in federal waters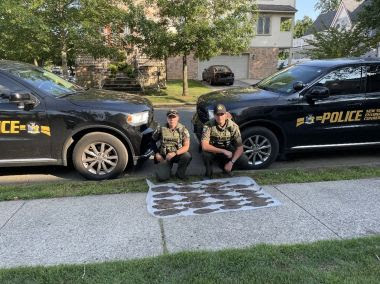 ECOs Farner and Kortz with illegal fluke caught at Fox Beach in Richmond County

Oversized bass found in hidden compartment of vessel fishing in Huntington Harbor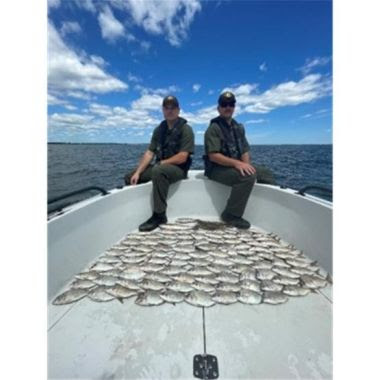 ECOs Wamsley and Franz with 100 seized fish caught illegally in Long Island Sound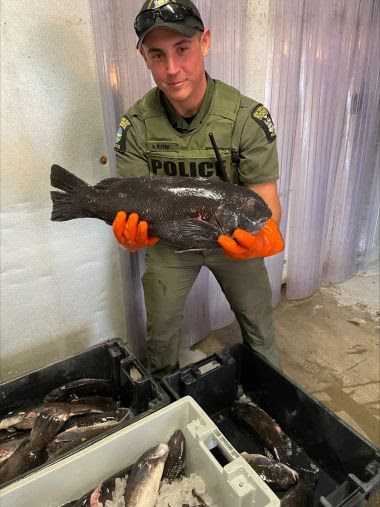 ECO Hilton sorting tagged and untagged tautog at fish market in Montauk
To contact an ECO to report an environmental crime or to report an incident, call 1-844-DEC-ECOS for 24-hour dispatch or email (for non-urgent violations).