Environmental Conservation Police on Patrol
The New York State Department of Environmental Conservation's (DEC) Division of Law Enforcement enforces the 71 chapters of New York State's Environmental Conservation Law (ECL), protecting fish and wildlife and preserving environmental quality across New York. In 1880, the first eight Game Protectors proudly began serving to protect the natural resources and people of New York State. In 2022, Environmental Conservation Police Officers (ECOs) and Investigators across the state responded to more than 25,600 calls and worked on cases that resulted in nearly 13,800 tickets or arrests for violations ranging from deer poaching to solid waste dumping, illegal mining, the black market pet trade, and excessive emissions violations.
"DEC Environmental Conservation Police Officers and Investigators work hard each day to serve their communities, protect our precious natural resources, and safeguard public health, while ensuring those who break the state's stringent Environmental Conservation Laws are held accountable," DEC Commissioner Basil Seggos said. "In partnership with local, state, and federal law enforcement, DEC looks forward to continuing to support the work our ECOs perform in every corner of New York."
Dangerous Dump – Bronx County
On Feb. 24, ECOs Ableson and Keegan received a report that two people had dumped a 275-gallon home-heating tank containing oil on a residential street in the Bronx. The ECOs and DEC's Spill Response team responded to the location to oversee the safe removal of the tank. After days of conducting interviews, reviewing surveillance footage, and visiting nearby homes and businesses, the Officers identified a subject who confessed to the crime when presented with the evidence. DEC issued a Notice of Violation against the subject for unlawful disposal of solid waste, ensuring the dumper will pay cleanup and testing costs. No spills were reported in this incident.
ECO Keegan with DEC Spill Responder Veronica Zhune examine contents of abandoned tank
Don't Burn Your Trash – Genesee County
On March 3, ECO Laczi responded to a call for assistance with a large fire in East Bethany. According to reports, someone knocked down a large shed, set fire to the remains, and left the fire unattended. The Officer arrived and determined the large fire contained construction debris and furniture, which is illegal to burn in New York State. ECO Laczi remained at the location until the fire was extinguished and later ticketed the responsible party for unlawful open burning and leaving the fire unattended, returnable to Bethany Court.
ECO Laczi pulls up to an illegal open burn in Genesee County
See You Later, Alligator – Kings County
On March 5, ECO Rappold received a call from a Brooklyn resident in possession of an alligator. The caller claimed a friend had dropped the alligator off the previous month and never returned to pick it up. A few days later, ECOs Rappold and Swart, along with investigators from the New York Police Department (NYPD) Animal Cruelty Investigation Squad, arrived at the caller's residence, retrieved the small alligator, and transferred it to a certified herpetologist in Massachusetts. It is illegal to possess alligators as pets in New York without the proper permit.
Seized American alligator from Brooklyn residence
"Earth Day, Birthday!" Guest Reader – Nassau County
On March 10, ECO Smith spent time with some of New York's youngest environmental stewards to read to second and third grade students at Old Bethpage Elementary School. The ECO read Earth Day, Birthday! by Maureen Wright and discussed the importance of recycling, picking up litter, composting, and reducing plastic waste. The Officer also explained his job as an ECO before answering questions from the students.
ECO Smith reading to students at Old Bethpage Elementary School
ECO Smith thanked by students at Old Bethpage Elementary
School for taking the time to read to them
ECO Makes Harrowing Rescue – Monroe County
On March 11, ECO Johnston was patrolling the area of Irondequoit Bay in the town of Webster when he encountered a motor vehicle accident where a sedan had rolled over onto its roof in the center of the road and burst into flames. The ECO quickly activated his emergency lights, ran to the vehicle, and opened the passenger door where he saw a woman hanging upside down from her seatbelt in the driver's seat, pleading for help. Unable to release the buckle from the driver's side, Officer Johnston cut the seatbelt, freeing the dazed driver before moving her safely away from the burning vehicle. The ECO then ran back to the vehicle to ensure there were no other occupants trapped inside. The Webster Fire Department arrived a short time later and extinguished the flames. EMS also arrived at the location and transported the driver to the hospital for evaluation and treatment.
On Thin Ice – Onondaga County
On March 12, ECOs received a report that two deer had fallen through the ice at the Jamesville Reservoir in the town of Lafayette. ECOs Yacavone and Scalisi responded and discovered that one of the deer had rescued itself from the icy water before the Officers arrival. The second deer was approximately 100 yards from shore and could not free itself. ECO Scalisi donned her Flood Incident Strike Team dry suit and life vest and guided the deer out of the water by circling around it, forcing the animal to swim back down the channel of broken ice and safely to shore.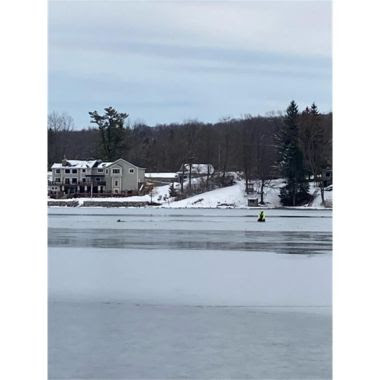 ECO Scalisi assisting deer on Jamesville Reservoir
Two Strikes in Two Days – Niagara County
On March 13, while conducting fish compliance checks on Niagara County-area Lake Ontario tributaries, ECOs Scheer and Kinney encountered two anglers on Keg Creek in possession of steelhead less than the legal length of 25 inches. The Officers ticketed both fishermen for possessing fish less than the legal limit, explained the special regulations for Lake Ontario tributaries, and provided the anglers with a copy of the DEC freshwater fishing regulations guide.
On March 15, ECO Scheer and Lieutenant VerHague encountered the same two anglers fishing on Keg Creek and witnessed one of the pair keep two steelhead in an area where the daily limit is a single fish. The anglers packed up and headed back to their vehicle after the catch and were surprised to see ECO Scheer waiting for them. In addition to being over the daily limit, the two steelhead were less than the legal length. Officer Scheer ticketed the fisherman for possessing a fish over the daily limit and possession of fish less than the legal length. The violations can result in fines up to $250 and up to 15 days imprisonment per charge.
ECO Scheer measuring undersized steelhead
caught in Keg Creek, Niagara County
Hudson River Fishing Detail – Orange/Rockland/Westchester/Putnam Counties
On the weekend of March 18 and 19, ECOs saturated Western, Putnam, Orange, and Rockland Counties for recreational fishing enforcement checks focused on anglers taking out-of-season striped bass. Between Saturday and Sunday, ECOs issued 134 tickets for violations including possession of out-of-season fish, fishing without a valid license, unlawfully targeting out-of-season fish, using an improper hook while fishing for striped bass, and illegal possession of fish. Officers also seized 35 striped bass during the weekend patrol and donated the fish to a local zoo. Anglers are reminded that the season for Striped Bass in the Hudson River (north of the George Washington Bridge) opens April 1 in New York State. To stay up to date with New York State fishing regulations, visit DEC's website.
ECOs Frano, Tompkins, Wamsley, Franz, and Swansen with
seized out-of-season striped bass and illegally-possessed white perch
Two for One – Suffolk County
On March 18, ECO DeRose responded to a complaint from New York State Park Police of a potentially injured seal on the beach at Robert Moses State Park. Officer DeRose arrived and observed the seal through his binoculars in an area of the beach currently closed to the public, designated as a nesting area for piping plovers. The ECO also spotted two individuals and their dog in the restricted, fenced-in part of the beach. The Officer approached the subjects who insisted they didn't know the area was closed despite the rope fencing, colored flags, and large 'Do Not Enter' and 'No Pets Year-Round' signage. After a quick education on the importance of protecting the plover nesting area, ECO DeRose ticketed the two subjects for entering an area of the beach closed to the public. The Officer also checked on the seal, which was simply resting and soaking up the warm evening sun.
Seal on beach at Robert Moses State Park in Suffolk County
Beach area restricted to public at beach in Robert Moses State Park in Suffolk County
"Do Not Enter" sign posted at designated nesting area for piping plovers at Robert Moses State Park beach
Otter Science – Suffolk County
On March 20, ECO Zullo responded to a report of a river otter dead on the side of the road in Greenport. Officer Zullo arrived at the location and determined the otter likely died after being hit by a vehicle. The ECO transported the animal to DEC biologists who will examine the otter to determine its age, breeding capability, diseases, and cause of death. Otters are elusive on Long Island and any information obtained from a specimen can assist studies and help DEC restore otters in the area.
ECO Zullo with deceased otter
Open Burn – Wayne/Monroe Counties
On March 21, ECOs Bobseine and McCabe were patrolling Wayne and Monroe counties when they observed an open fire with several pieces of treated lumber in the burn pile. The Officers advised the property owner of the burn ban currently in effect and explained that burning treated lumber violates Environmental Conservation Law. The homeowner agreed to enter into a consent order with DEC and pay an administrative penalty of $250 to settle the violation.
A statewide prohibition on burning brush runs from March 16 until May 14 every year. Open burning is the single greatest cause of wildfires in New York State. Since being implemented in 2009, the burn ban has resulted in a more than 40-percent decrease in wildfires across the state. Burning solid waste for disposal is unlawful year-round. Either violation can subject individuals burning such materials to misdemeanor level charges and fines from $500 to $18,000 and/or up to one year imprisonment.
ECOs observe burn pile during patrol in Wayne and Monroe counties
Multi-Agency Meeting Ends with Successful Investigation – Sullivan County
On March 21, ECO Parker met with Game Warden Meyer from the Pennsylvania Game Commission and Waterways Conservation Officers (WCO) Kokatay and Casey from the Pennsylvania Fish and Boat Commission to exchange information and share intelligence on past joint investigations and plan for future efforts to combat environmental crimes that cross state lines. In one case, Officers determined that deer parts found along the waterways of Pennsylvania came from a New York taxidermist conducting work on a deer harvested in Pennsylvania. ECO Parker assisted with the investigation and issued tickets to the taxidermist and the Pennsylvania hunter who imported the deer for violations of New York's Chronic Wasting Disease (CWD) regulations, while the Pennsylvania officers addressed the illegal dumping.
CWD is an untreatable disease of the brain and nervous system that kills deer species. Bringing hunter-killed deer, elk, moose, or caribou carcasses into New York is illegal and increases the risk of spreading CWD.
Left to Right: ECO Parker, WCO Kokatay, and Warden Meyer
Region 9 Officer Receives Prestigious Award – Niagara County
On March 25, Lieutenant VerHague received the Ken Berner Memorial Award at the annual banquet held by the Niagara County Federation of Conservation Clubs (NCFCC). The organization presented Lt. VerHague with the award for his dedication to youth, sporting education programs, conservation ethics, and overall conservation efforts and support in Niagara County. VerHague, a member of the New York Conservation Officers Association, has worked with NCFCC on several environmental conservation initiatives since 2010. DEC congratulates Lt. VerHague on receiving this honor.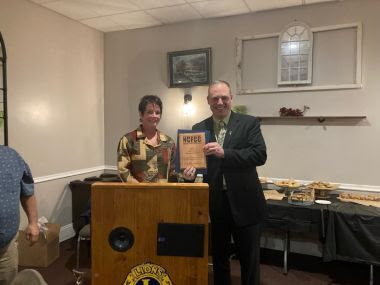 Lt. VerHague receives the Ken Berner Memorial Award from
Niagara County Federation of Conservation Clubs
Injured Eagle Flies Again – Schoharie County
On March 26, a three-year-old bald eagle found nearly lifeless on the side of a road in the town of Gilboa was able to fly once again. On Jan. 25, town workers plowing snow found the severely injured eagle in a snowbank on Flat Creek Road. They brought it back to the Broome Center town maintenance facility where ECO Bohling collected the eagle and transferred it to Friends of the Feathered and Furry Wildlife Center for rehabilitation. After more than 60 days in recovery, staff from the facility successfully released the eagle back into the wild in Gilboa near the ditch where it was found.
Injured bald eagle found in snowbank in Schoharie County
Injured bald eagle after one day of treatment at Friends of
the Feathered and Furry Wildlife Center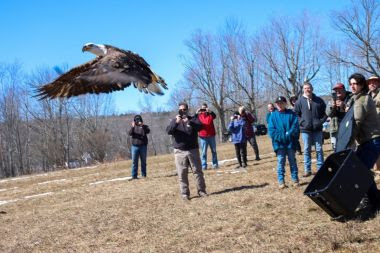 Bald eagle released back into the wild, March 26, 2023. 
Photo Credit: Bill Combs, Jr.
To contact an ECO to report an environmental crime or to report an incident, call 1-844-DEC-ECOS for 24-hour dispatch or email central.dispatch@dec.ny.gov (for non-urgent violations).
https://www.dec.ny.gov/press/press.html
---
This email was sent to theharlemvalleynews@gmail.com using GovDelivery Communications Cloud on behalf of: New York State Department of Environmental Conservation · 625 Broadway · Albany, NY 12233 · (518) 402-8013