Environmental Conservation Police on Patrol
The New York State Department of Environmental Conservation's (DEC) Division of Law Enforcement enforces the 71 chapters of New York State's Environmental Conservation Law (ECL), protecting fish and wildlife and preserving environmental quality across New York. In 1880, the first eight Game Protectors proudly began serving to protect the natural resources and people of New York State. In 2021, 282 Environmental Conservation Police Officers (ECOs) and Investigators across the state responded to 26,207 calls and worked on cases that resulted in 11,562 tickets or arrests for violations ranging from deer poaching to solid waste dumping, illegal mining, the black market pet trade, and excessive emissions violations.
"DEC Environmental Conservation Police Officers and Investigators are on the front lines each and every day protecting our natural resources by upholding New York's environmental laws and regulations and safeguarding public health," DEC Commissioner Basil Seggos said. "From ensuring hunters and anglers follow rules and regulations afield and on the water, to sustaining partnerships with local law enforcement agencies investigating crimes that include solid waste dumping and air emissions violations, ECOs and Investigators are on patrol, ready to serve their communities. Each year brings new challenges, and fortunately, these Officers and Investigators are expertly trained to perform their duties with persistence, integrity, and good judgment, as they've done for over a century."
Heavy Duty Diesel Vehicle Detail Gets Results – Statewide
On April 21, DEC Commissioner Basil Seggos announced a week-long truck enforcement detail in communities statewide as part of New York's commemoration of Earth Week. ECOs from DEC's Division of Law Enforcement, in coordination with Division of Air Resources staff, conducted the details, particularly in disadvantaged communities most affected by truck pollution, to protect public health and the environment by inspecting diesel vehicles to ensure compliance with the State's stringent air regulations.
ECOs conducted 53 environmental quality enforcement details and issued 184 tickets specifically for violations related to the details, helping dozens of trucks come into compliance and stop polluting communities. More than 400 tickets were issued for environmental violations noted during compliance checks, ranging from improper pesticide application, to other air quality violations and pharmaceutical collection compliance.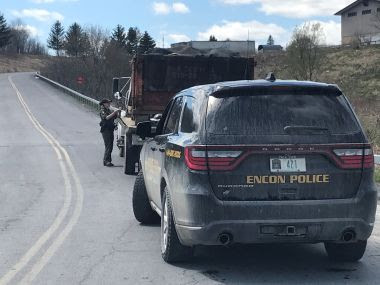 ECO Bohling obtaining driver information in Schoharie County before truck inspection

ECOs conduct truck detail in Port of Rensselaer

ECOs conduct truck detail in Seneca Falls

ECO Anderson inspects bags of pesticides while ECO Dickson inspects truck and trailer in Nassau County
ECOs Interviewed by Environmental Law Students – Suffolk County
On April 14, ECOs Carpenter and Kaufherr visited Farmingdale State College – SUNY and answered student questions. Each student asked questions, including what made the ECOs want to become Environmental Conservation Police Officers, what a typical workday is like, and how difficult it is to stay up-to-date with changing laws and regulations. Most of the students were not familiar with ECOs before completing the project and reported learning a lot about the job after the visit. The professor of the course plans to continue featuring ECOs in future classes.
In-Law Breaks Law – Nassau County
On April 18, while on a marine fishing patrol, ECO Pabes observed construction debris dumped underneath a bridge in the village of Roslyn. Officer Pabes inspected the debris and located several shipping labels listing an address in Port Washington. The ECO drove to the nearby address on the labels where he observed construction workers and renovation supplies. After speaking with construction workers at the site, a man emerged from inside the house who identified himself as the brother-in-law of the property owner. This individual was overseeing the renovation project. When questioned on the illegal dump, the subject claimed an unknown man passed by one day and offered to dispose of the garbage for a small fee. ECO Pabes pointed out inconsistencies in the subject's story, and within minutes, the person agreed to clean up the mess and accepted a Notice of Violation for unlawful disposal of solid waste. The following week, the suspected dumper produced a dump receipt for the debris cleanup, signed a Consent Order, and paid his fine.

Illegal dump of construction debris from Port Washington residence
Get Greedy and Get Caught – Ulster County
On April 20, DEC Fisheries spent the day stocking trout in Rondout Creek and ECOs Walraven and Johnson patrolled the area to ensure anglers were taking fish in accordance with DEC regulations. The Officers decided to conduct a check of a fisherman taking trout and keeping them on a stringer. The fisherman was in possession of six trout, with three more than 12 inches in length. The regulations for this area of Rondout Creek are five total trout with no more than two fish over 12 inches. The unlawfully taken fish were seized and the fisherman ticketed for taking trout in excess of the limit and taking trout out of slot size. The tickets are returnable to the Town of Wawarsing Court.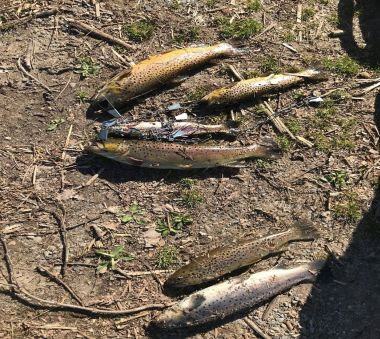 Seized fish in Ulster County
Haulin' Bass – Nassau County
In the early morning hours of April 21, ECO Pabes responded to a report of multiple anglers keeping excess and undersized striped bass in the village of Great Neck. The caller claimed they observed the fishermen placing bags of fish into the back of a vehicle. When confronted by other anglers about these illegal fish, the fishermen left the scene and went to a nearby gas station on foot. ECO Pabes met the caller and the suspects at the gas station where they denied any wrong-doing and had no fish in their possession. ECO Pabes noticed that one of the suspects had car keys on the table next to him, but claimed to be getting a taxi home. Suspicious, the Officer waited next to the vehicle reported by the caller. Within minutes, another vehicle dropped the two suspects off at the SUV, where they quickly jumped into the vehicle and sped away. ECO Pabes hopped into his patrol vehicle and followed, catching up to the SUV at a red light. The suspects began to drive erratically, speeding down a side street and blowing through a stop sign. ECO Pabes eventually stopped the SUV and the driver immediately confessed to having striped bass in the vehicle and driving without a license. The Officer issued four tickets for undersized and excess striped bass, failure to stop at a stop sign, and unlicensed operation of a motor vehicle, returnable to Nassau First District Court. The five undersized striped bass were seized and donated to a wildlife rehabilitator.

Seized striped bass
Youth Turkey Hunt – Suffolk County
On April 23 and 24, ECOs Della Rocco, Kochanowski, Boyes, and Currey participated in the First Annual Suffolk County Youth Hunt, sponsored by the New York Conservation Officers Association, National Wild Turkey Federation, and local businesses. Each Officer took a youth hunter and their parent or guardian afield to hunt for wild turkey. Two young hunters successfully harvested a tom during the event. After the hunt, participants met at DEC's Ridge Conservation Area for a picnic and prizes were awarded to the young hunters, including hats, face masks, turkey hunting vests, gun-cleaning kits, firearm cases, and more. ECO Della Rocco also gave a demonstration on how to process a wild turkey. One lucky hunter was awarded a turkey mount donated by a local taxidermist. Everyone involved enjoyed the event and many of the youth expressed interest in participating again next year.

Young hunters at youth hunting event in Suffolk County
Youth Conservation Program – Suffolk County
Also in Suffolk County on April 24 and 25, DEC employees from the Division of Fish and Wildlife and volunteers from the Peconic River Sportsman's Club held the annual Youth Conservation Program at the club in Calverton. The two-day event began with ECO Kaufherr educating participants on hunter safety. The next day, youth participated in field activities including orientation, wildlife identification, blood tracking, and firearm safety through target practice with a shotgun and a rifle. ECOs DeRose, Pabes, Paschke, and Perkins assisted with instruction during the in-field activities. In addition, ECO DeRose and K9 Cramer performed a K9 demonstration. A total of 30 young people participated in the event.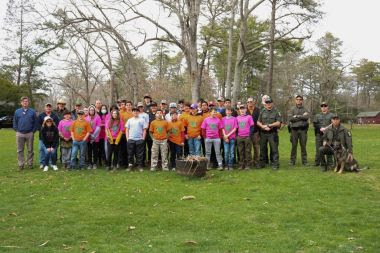 Youth Conservation Program participants in Suffolk County
Career Day in Riverhead-Suffolk County, New York
On April 29, Investigator Eastwood and ECO McCabe attended career day at the St. John Paul II Regional School in the town of Riverhead, Suffolk County. Students in kindergarten through eighth grade visited with the Officers to learn more about what an ECO's job entails and the work they do every day to protect our natural resources and the public.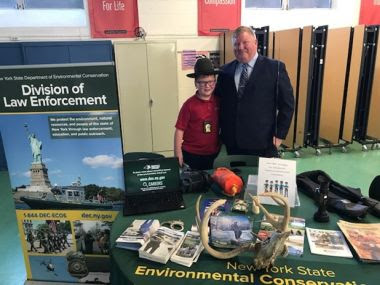 Investigator Eastwood with his son, Cole
Cops4ACause Fishing Day – Oswego County
On April 23, Lt. Burnell and ECOs Grogan, Dorrett, and Bonilla attended the Cops4ACause event at Mexico State Park on Lake Ontario. Cops4ACause is a not-for-profit organization dedicated to caring for law enforcement families who lost loved ones in the line of duty. At this event, local fishing charters treated children to a day-long fishing trip. The event began with a ceremony to honor those who made the ultimate sacrifice and then the eager children boarded the boats for a beautiful day of fishing. The ECOs piloted the 31-foot SAFE boat from Oswego to Mexico Point as a show of support. Other participating agencies included New York State Police, United States Border Patrol, Oswego County Sheriff's Office, Fulton Police Department, and City of Oswego Police Department.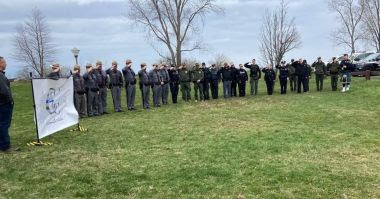 Law enforcement officers honoring the fallen at annual Cops4ACause event at Mexico State Park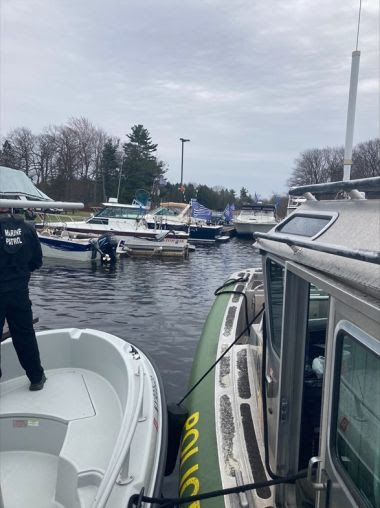 DEC's SAFE boat A7 prepped to escort the participants for a day of fishing fun on Lake Ontario
Out of Sight, Not Out of Mind for K9 Cramer – Suffolk County
On April 25, while patrolling Caumsett State Historic Park Preserve, ECO DeRose observed a fishing party from a distance. Officer DeRose and his partner K9 Cramer moved to search the area before approaching three anglers. The men claimed they only caught porgy and turned over their cooler for the Officer to search. ECO DeRose, suspecting there was more to the story, deployed K9 Cramer to take a closer look. K9 Cramer showed a lot of interest in an area thick with vegetation. Officer DeRose discovered three undersized striped bass in a black plastic bag, partially buried in the sand under the vegetation. The ECO escorted the three fishermen from the beach and issued eight tickets for violations including possessing undersized striped bass and taking striped bass unlawfully using J-hooks, which make it easier to catch fish.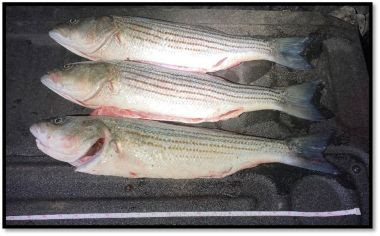 Three striped bass discovered by K9 Cramer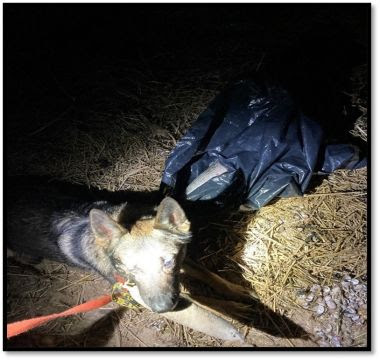 K9 Cramer near plastic bag where illegally caught striped bass were hidden
Striped Bass Violations – Nassau County
On April 27, ECO Simmons surveilled Hempstead Harbor where night-time fishing activity at high tide was active. Fishermen were targeting striped bass, which is in season, but it didn't take long for the Officers to discover violations. ECOs Pabes and Cacciola arrived at around 7:15 p.m., and immediately spotted two anglers trying to leave the area with undersized striped bass. The Officers continued their patrol and until 1 a.m., netting more violators. They seized 26 fish and issued several tickets for both over-the-limit and undersized fish.

ECO Pabes and ECO Cacciola with seized striped bass
Open Burn Violations – Oneida County
On April 26, ECO Tabor responded to multiple open burn violations in Oneida County. The third call of the day was at the request of the Lee Center Fire Department. The fire chief was on scene of an illegal open burn directing suppression efforts while law enforcement was requested to address the unlawful fire. Officer Tabor issued a summons for the unlawful open burn during the statewide burn ban that lasts through May 14, returnable to the Lee Town Court.

Open burn violations in Oneida County
Can't Drive There – Ulster County
On April 27, ECO Johnson responded to a request for assistance from the Ulster County Sheriff's Department with a vehicle driven into a protected trout stream in the town of Kingston. The driver of the vehicle was arrested by the Sheriff's Department on suspicion of driving while intoxicated. The investigation concluded that the driver hit the side of a residence near the Sawkill Creek and then drove the vehicle down the steep bank of the stream believing he was still on a roadway. The vehicle made it approximately 200 yards downstream before colliding with a rock and disabling the vehicle. The vehicle was removed with a large crane to mitigate damage to the stream. The Sawkill Creek had been stocked with trout only a few weeks prior. ECO Johnson issued the driver multiple tickets for the incident, which included disturbing the bed and banks of a protected stream, polluting the water in contravention of standards, and disposing of refuse in a trout stream.

Disabled vehicle in Sawkill Creek
Spring Striped Bass Detail Nets Poachers – New York City Area
Each year in early spring, striped bass move into the tidal portion of the Hudson River and coastal waters around New York City and Long Island, and with them, an increase of poaching. Officers responded to 24 calls in April from the public regarding illegal poaching of striped bass and issued 88 tickets for 146 unlawfully taken striped bass. Charges included taking striped bass out of season, possession of undersized fish, taking over the daily limit, no marine registry, no party charter permit, failure to release with undue harm, and dumping upon signal to stop. Fines paid to date total $11,325. ECOs conducted many joint boat patrols throughout the month of April with the U.S. Coast Guard in New York City, targeting poaching in Raritan and Jamaica Bay. By land and sea, Officers responded to complaints in Pelham Bay, Little Neck Bay, East River Park, Jamacia Bay, Raritan Bay, Great Kills Harbor, Battery Park, Coney Island Beach, Rodman's Neck, Fort Totten Park, and the Atlantic Ocean.

April 2 enforcement involving 30 poached out-of-season striped bass in Raritan Bay

April 2 enforcement involving 37 out-of-season poached striped bass in Bronx County

ECOs Michalet (left) and ECO Milliron (right) with poached striped bass in Bronx County
Seal Recovery – Suffolk County
On April 30, the Atlantic Marine Conservation Society requested ECO assistance to recover a deceased seal on the bayside beachfront of Robert Moses State Park. ECO DeRose responded with his UTV and partner K9 Cramer to recover the seal and transport it for a necropsy.

Deceased seal in Suffolk County
Household Hazard Help – Erie County
On April 30, ECO Damrath joined Erie County Chief Environmental Compliance Specialist John Hood at a Household Hazardous Waste Collection event in Orchard Park. More than 600 vehicles lined up at the Erie Community College South Campus to dispose of paints, pesticides, flammables, and other hazardous materials. County residents could drop off up to 50 pounds of hazardous waste free of charge that would otherwise have ended up in the environment or endangering first responders, highway crews, and sanitation workers.

ECO Damrath joined by worker at hazardous waste collection event in Erie County
Flood Incident Strike Team Training
During the first week of May, ECOs who are members of the New York State Flood Incident Strike Team (FIST) participated in a multi-agency training with New York State Fire, Police, Parks, Forest Rangers, and Corrections and Community Supervision. Strike teams deployed to multiple locations of the West Canada River for rescue simulations and conducted swift water training exercises at the State Preparedness Training Center in Oneida County. Members role-played as victims of a car swept away by flood waters, while others practiced rescuing them in a safe and timely manner.

FIST members conduct swift water training exercise at State Preparedness Training Center
Snake Sighting – Suffolk County
On April 30, Suffolk County Police requested assistance with a "large black snake." ECO DeRose responded to the suburban area where snake sightings are relatively rare. The ECO met with the residents who claimed the snake was slithering up their rear sliding door and came to rest next to the house's electric meter. Officer DeRose moved some of the vegetation around the meter service line and found a large black snake. The snake held still long enough for ECO DeRose to snap a photo to help identify it before relocating the snake to a nearby State forest. The nearly five-foot snake was later identified as a native black rat snake.

ECO DeRose removes snake from home

Black snake outside residential home in Suffolk County
Felony DWI Accident – Washington County
On April 30, at approximately 6:30 pm, ECO Krug responded to a rollover motor vehicle accident on County Route 41. The operator of the vehicle was not injured, but Officer Krug suspected the driver was impaired. He conducted standard field sobriety tests and arrested the 35-year-old man for felony DWI and issued tickets for other traffic offenses including reckless driving and operating a vehicle without insurance. The Washington County Sheriff's Department assisted with the arrest.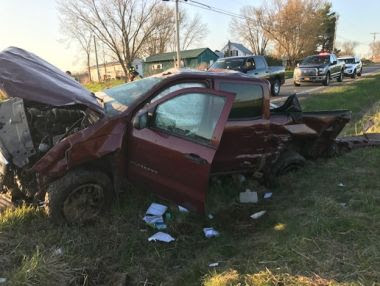 Rollover DWI crash in Washington County
Open Season Shenanigans – Suffolk County
On May 1, the first day of the season for summer flounder (fluke), ECO Perkins received a complaint from a fisherman at the Robert Moses State Park boat basin about a man and woman inside a vehicle who took an undersized fluke. ECO Perkins searched the car and located the undersized fluke in a clear plastic bag underneath a pile of groceries in the trunk. ECO Perkins placed the fluke on the gravel lot and continued to search the vehicle for additional fish. As he searched, the suspect grabbed the fish and proceeded to sprint for approximately 60 yards toward the water. ECO Perkins repeatedly ordered the subject to stop and not dump the fish as the subject completely disregarded the ECO's orders and threw the fish back into the water. The fisherman's poor judgement and actions resulted in three tickets for possession of undersized fluke, failure to release without undue harm, and dumping upon signal to stop from a police officer. All tickets are returnable to 1st District Court in Suffolk County.
Special Operations Training – Port Jefferson
On May 3, New York State Environmental Conservation Police's Special Operations Group conducted maritime boarding training at the ferry dock in Port Jefferson. The training in these techniques will enable law enforcement to embark a large vessel and respond to emergency situations.

DEC Special Operations training
Illegal Dump Transport – Chautauqua County
On May 3, ECO Kinney was working in the vicinity of the Falconer Transfer Station when he observed a truck transporting uncovered waste in violation of the State's solid waste regulations. The Officer stopped the operator who provided his name and date of birth. Upon checking with the Chautauqua County Sheriff's Dispatch, ECO Kinney was advised that the operator had a U.S. Marshall federal warrant issued the previous day and was awaiting sentencing for a guilty plea in federal court. He received a ticket for transporting solid waste uncovered and was relayed to the U.S. Marshalls.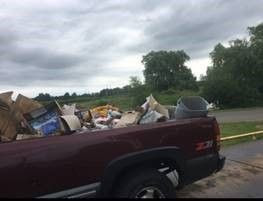 Truck used for illegal dumping
Injured Bald Eagle Rescue – Orange County
On May 4, ECO Wamsley responded to Old Balmville Road in the town of Newburgh after reports of a lethargic bald eagle that was unable to fly. Officer Wamsley captured the bird with a net and transported it to a licensed rehabilitator for diagnosis and possible rehabilitation.

ECO Wamsley with rescued eagle in Orange County
Unwanted Geese – Schoharie County
On May 5, ECO Bohling received a complaint of shots fired at geese on a residential pond in the town of Summit. The complainant stated she watched the defendant pull up to the pond, get out of his vehicle, shoot once at a goose, and then a second time at the remaining geese in the pond. ECO Bohling located the suspected shooter, who said they were coming after him while he worked on his property. Officer Bohling relayed that geese are federally protected migratory game birds and cannot be shot when considered a nuisance without a permit from DEC. The defendant was issued two tickets for taking waterfowl other than during the open season and taking migratory game birds contrary to DEC regulation. Due to its injuries, one goose was dispatched and removed from the pond.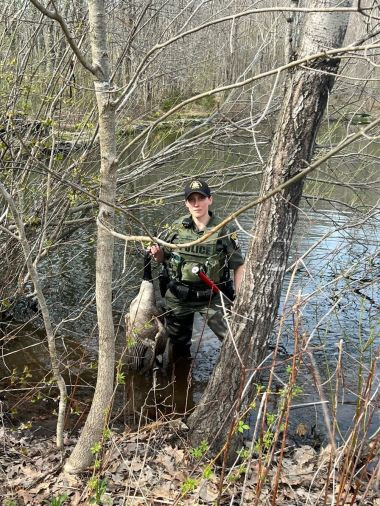 Goose shot in Schoharie County