Recent Statewide Forest Ranger Actions
New York State Department of Environmental Conservation (DEC) Forest Rangers respond to search and rescue incidents statewide. Working with other state agencies, local emergency response organizations, and volunteer search and rescue groups, Forest Rangers locate and extract lost, injured, or distressed people from across New York State.
In 2021, DEC Forest Rangers conducted 426 search and rescue missions, extinguished wildfires, participated in prescribed fires that served to rejuvenate hundreds of acres of land, and worked on cases that resulted in thousands of tickets or arrests.
"Over the last decade, as well as during the COVID-19 pandemic, DEC saw an increase in people visiting State lands to experience New York's abundant opportunities for outdoor recreation," said DEC Commissioner Basil Seggos. "DEC's Forest Rangers continue to be on the front lines to help visitors get outside responsibly and get home safely, as well as to protect our state's irreplaceable natural resources. Rangers' knowledge of first aid, land navigation, and technical rescue techniques are critical to the success of their missions, which for more than a century have taken them from remote wilderness areas with rugged mountain peaks, to white water rivers, and throughout our vast forests statewide."
Town of Forestport
Oneida County
Brush Fire: On May 1 at 5:45 p.m., Forest Ranger Lieutenant Hoag and Ranger McCartney responded to a brush fire near Round Lake Road in the town of Forestport. The fire burned an estimated nine acres of private land. By 8:20 p.m., the fire was put into patrol status and declared out on May 4.
New York's annual statewide brush burning ban is in effect through May 14. Since 2009, DEC has enforced the ban to prevent wildfires and protect communities during heightened conditions for wildfires each spring. Backyard fire pits and campfires less than three feet in height and four feet in length, width, or diameter are allowed. Small cooking fires are allowed, but only charcoal or dry, clean, untreated, or unpainted wood can be burned. People should never leave these or any fires unattended and must extinguish them. Burning garbage or leaves is prohibited year-round. For more information about fire safety and prevention, go to DEC's FIREWISE New York webpage.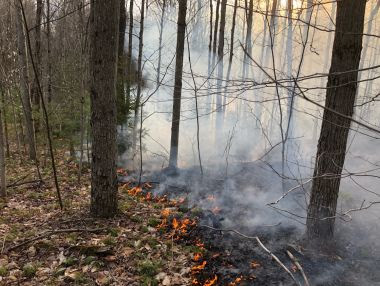 Brush fire in Forestport
Village of Spencerport
Monroe County
Public Outreach: On May 2, Forest Ranger Lieutenant Wickens and Ranger Staples visited WEMOCO Career and Technical Educational Center in Spencerport. The Rangers spoke to 16 seniors who showed an interest in law enforcement careers. Ranger Staples unpacked gear from a Ranger vehicle and explained how everything is used. Rangers also answered questions from participating students, many of whom had no prior interaction with Rangers.
City of Albany and Town of Riverhead
Albany and Suffolk Counties
Prescribed Fires: On May 5, Forest Rangers Jackson and Kabrehl assisted Albany Pine Bush staff, DEC staff, and volunteers with an 18-acre prescribed fire at the Albany Pine Bush Preserve. The fire helps maintain pitch pine scrub oak barrens around the Albany Pine Bush Discovery Center. Rangers and staff spent five hours burning around signage, a weather station, solar panels, and the Discovery Center to ensure structures were not damaged and smoke did not impact New Karner Road. This is the fifth successful burn of the year for Albany Pine Bush staff.
Also on May 5, Forest Rangers Dormer, Gagne, Gallagher, Kallen, Morehouse, Oldroyd, and Scott assisted Central Pine Barrens Commission and Brookhaven National Laboratory staff to conduct a 55-acre prescribed fire at the Otis Pike Pine Barrens State Forest in Riverhead.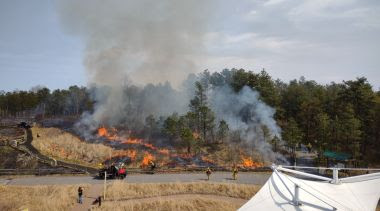 Prescribed burn at Albany Pine Bush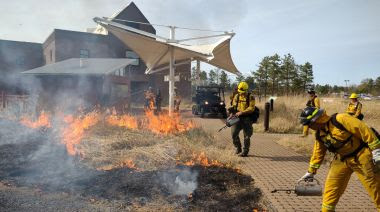 Prescribed burn at Albany Pine Bush

Prescribed burn in Riverhead
Town of Keene
Essex County
Technical Rescue Training: On May 5, 15 Rangers participated in their annual Technical Rescue Operations Level Certification Training, which helps ensure Rangers are prepared to manage and conduct rescue and recovery missions in steep and vertical environments. Using these simulated scenarios, Rangers adhere to the motto, "practice like it's real, so when it's real, it's like practice."

Technical rescue training in Keene
Town of Newburgh
Orange County
Hoist Training: On May 5, Ranger hoist operators Cowart, Gullen, Mitchell, Slade, and Stratton participated in an exercise with New York State Police aviation out of the Newburgh hanger. The exercise required Rangers to insert and pick up multiple personnel in unplanned locations in the area of Breakneck Ridge in Hudson Highlands State Park. The Rangers also simulated loss of communication with the ground, requiring the use of signal mirrors and other signaling methods to communicate with the pilots.

Hoist training in Orange County

Hoist training in Orange County
Town of Newburgh
Orange County
Narcan Administration: On May 5 at approximately 4:30 p.m., Forest Ranger Gullen was returning to headquarters following hoist training when a vehicle traveling westbound crossed the median and hit the guardrail. Ranger Gullen responded to the vehicle and found the driver unconscious and foaming at the mouth. The Ranger administered one dose of Narcan and called an ambulance. The subject responded to the medication and was able to walk to the ambulance, which then transported him to the hospital.
Town of Truxton
Cortland County
Turbid Stream Water: On May 5, Ranger Lunt received a water quality complaint in Shackham Brook on Morgan Hill State Forest. Ranger Lunt observed stream water that was turbid and walked upstream to adjacent private land where the Ranger discovered an individual pumping out water from a private pond into the stream. Ranger Lunt made contact with the landowner and directed them to cease pumping water out of the pond. Ranger Lunt turned the case over to ECO Kostuk to follow up with an enforcement investigation.
Town of Pitcher
Chenango County
Wildland Search: On May 6 at approximately 10 p.m., Forest Rangers were called to the town of Pitcher to assist with a search for two missing children, ages seven and nine. The children were last seen playing outside and were believed lost in a wooded area ​near their home. Ranger Lieutenant Wickens, and Rangers Chappell, Oldroyd, and Seeley began to search for the children. At 4:45 a.m. the following morning, Ranger Chappell located the children in the woods, cold but otherwise in good condition. The children were evaluated by EMS and reunited with their parents. Also assisting in the search was DEC Environmental Conservation Police Officer Rigoli, the Chenango County Sheriff's Department, New York State Police, the Chenango County Search Team, Cincinnatus Fire Department, and Cincinnatus EMS.

Rangers (Left to right) Chappell, Seeley, and Oldroyd after successful search for missing children
Village of Newark Valley
Tioga County
Underage Party: On May 7 at approximately 10 p.m., Forest Rangers patrolling Tioga County State Lands encountered a gathering of 20 teenagers in Ketchumville State Forest. The Rangers interviewed the individuals who admitted planning the party on the State Forest. Two teenagers were ticketed for underage possession of alcohol. The Rangers spoke to the vehicle drivers to ensure they were not under the influence of drugs or alcohol and dispersed the remainder of the group.
Town of Windham
Greene County
Wilderness Rescue: On May 8 at 12:17 p.m., Forest Rangers Allwine and Dawson responded to a report of a hiker with an ankle injury on the escarpment trail of Blackhead Mountain. The Rangers reached the 42-year-old and assisted the subject out of the woods. Resources were clear at 4:19 p.m.
Town of North Elba
Essex County
Wilderness Rescue: On May 8 at 7:45 p.m., Ray Brook dispatch requested Forest Ranger assistance with a hiker on the Van Hoevenberg trail with a knee injury. Ranger Praczkajlo met the 42-year-old from Monroe and her hiking partner at Marcy Dam and helped the pair back to their vehicle at the Adirondak Loj. The subject declined medical attention and resources were clear at 9:15 p.m.
Be sure to properly prepare and plan before entering the backcountry. Visit DEC's Hike Smart NY, Adirondack Backcountry Information, and Catskill Backcountry Information webpages for more information.
If a person needs a Forest Ranger, whether it's for a search and rescue, to report a wildfire, or to report illegal activity on state lands and easements, they should call 833-NYS-RANGERS. If a person needs urgent assistance, they can call 911. To contact a Forest Ranger for information about a specific location, the DEC website has phone numbers for every Ranger listed by region.