Obituary for Raymond L. Sanford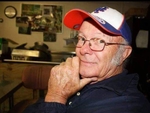 Raymond L. Sanford, 80, a resident of LaGrange since 1993 and formerly of Stormville and Salisbury Mills, died on February 9, 2019 at Vassar Brothers Medical Center.
Born in Salisbury Mills on July 8, 1938, he was the son of Thomas and Doris (Doolittle) Sanford. Ray proudly served our country in the US Army in the 82nd Airborne, and had been employed as a Lieutenant with the State of New York at Green Haven Correctional Facility for 28 years. He also owned and operated R&A Contracting for 20 years. Ray was a member of the Time Out Golf League. He also enjoyed playing softball and basketball, and was a baseball coach and umpire.
Ray is survived by his wife, Marie (Salzillo) Sanford; his children and their spouses, Thomas R. and Dawn Sanford of LaGrange, Ralph and Ann Gastin of LaGrange, Andrew Sanford of Hyde Park; First Sgt. Joseph Sanford of Hannibal, Mary and James Haight of FL, Daniel and Laura Gastin of Ulster Park, Michael and Alexa Sanford of Kingsland, GA, Katherine Sanford of Wappingers Falls, Daniel and Kylie Welsh of New Haven, CT; his sisters, Nora Bucha, Ruth Gaylord, Doris Mae Atkins-Shaw, and Sally Zawko; 23 grandchildren and 4 great-grandchildren. He was predeceased by his first wife, Nancy (Howell) Sanford in 1996.
Calling hours will be held on Saturday from 12-2 pm at 895 Route 82, Hopewell Junction followed by a service at 2pm with military honors.
Memorial donations may be made to the Veterans Administration Medical Center at Castle Point.